A Tradition of Island Service That
Sails Above the Rest
Automotivated on Bainbridge Island since 1974.
Reliable Repair & Servicing
When your family name is on the mailbox – and the building behind it – for nearly half a century, your reputation means everything. Ours stands for straight-up honesty, integrity and dependability in everything we do. Every repair we make carries a built-in warranty of reliability. Count on it!
Trusted Auto Care
If you talk to five different mechanics on Bainbridge Island, you're likely to get five different service estimates – for the same work on the same vehicle. At Mac and Jacks, you'll only get one. The one you can trust. No surprises, no excuses. We keep it real!
Expert Cycle Care
We've been working on bikes for as long as they've been crossing the Puget Sound on the ferry, or traveling the scenic backroads of the Olympic Peninsula. From suspension, brakes, chains and hoses to showroom-ready detailing. You'll know all costs up front.
About Mac N Jacks
Welcome! We wanted to take a minute to introduce our proud history on Bainbridge Island from the days we first opened our garage doors in Eagledale, what was then Bainbridge Island's most populous community.
Since that day we have been uniquely committed, or "automotivated," to deliver the highest standards of service to those we call our neighbors, and our friends.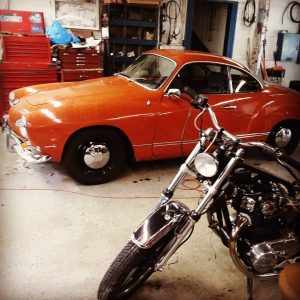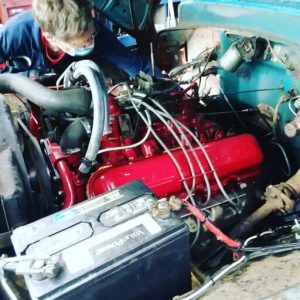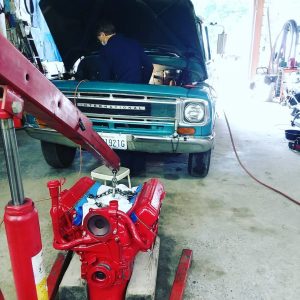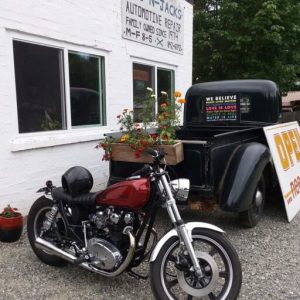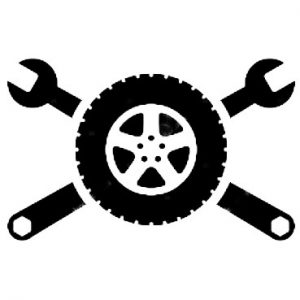 Auto Maintenance &
Brake Service
Looking for the best Lube, Oil and Filter service on Bainbridge Island? You'll find it at Mac N Jacks — the absolute lowest price from Winslow Way to Agate Pass. No coupon ever required.
Click below for more services.
We are auto-motivated!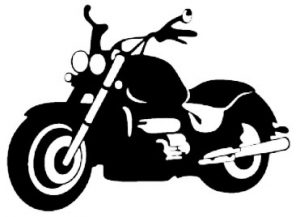 Motorcycle Detailing
Our premium detailing package for motorcycles is derived straight from Harley Davidson's showroom-ready process, along with a handful of secret techniques we've developed in house.
Click below for our Motorcycle Service and Detailing
Price List.
The McFarlanes
The story of Mac N Jacks is the story of two families, the McFarlanes and the Jacksons.
Brother in law's Jesse McFarlane and David Jackson opened the doors to Mac N Jacks Auto Repair in 1974. David and Jesse were the Master Mechanics in residence for nearly a quarter century.
Grandpa Erik Jackson came to Bainbridge after his island in Finland was taken over by the Russian government. He became one of the original Mosquito Fleet Ferry Captains here.
Erik married Eva Esther and the two worked together at the Bloedel Reserve back when it was a private residence.
In the island's automotive heyday, a Demolition Derby was held where today stands Winslow Green.
The Jacksons
The Jackson family manages our operations today. Grandpa Erik Jackson was the first generation Jackson family islander.
David and Arnie Jackson took care of things as the generation next in line. David Jackson's family were Scandinavian immigrants that helped establish the New Sweden community.
Today, Larry Jackson is your friendly shop manager, assisted by co-owner and spouse, Beth Jackson. Larry is also a storied musician whose guitar was curated by the Island Historical Museum and who has toured the world with his bands of renown, as well as cut several records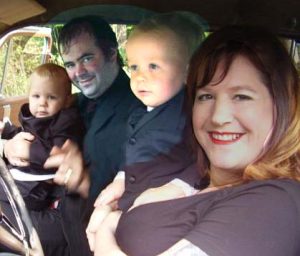 Larry and Beth Jackson
& the Twins
Mac N Jacks Location
From Hwy 305, take the Sportsman's Club Road turnoff (a right at the traffic light heading to Bainbridge) and follow the signs to the Japanese American Memorial (we are two blocks before the entrance to Pritchard Park).
From the ferry terminal or town of Winslow, take Winslow Way into town and turn right at Winslow Green, up Madison Ave., then a left on Wyatt Way which turns into Eagle Harbor Drive. Hug the water all the way to Eagledale.
From High School Road, take Finch to Wyatt which turns into Eagle Harbor Drive.
Let us show you how we can do more for you than anyone else.
Talk to Us
Please call (206) 842-6092 . We are here Monday thru Friday from 8am PST to 5pm PST.
Review Us
We are always striving to improve our product and welcome all feedback. Please visit our Reviews page.